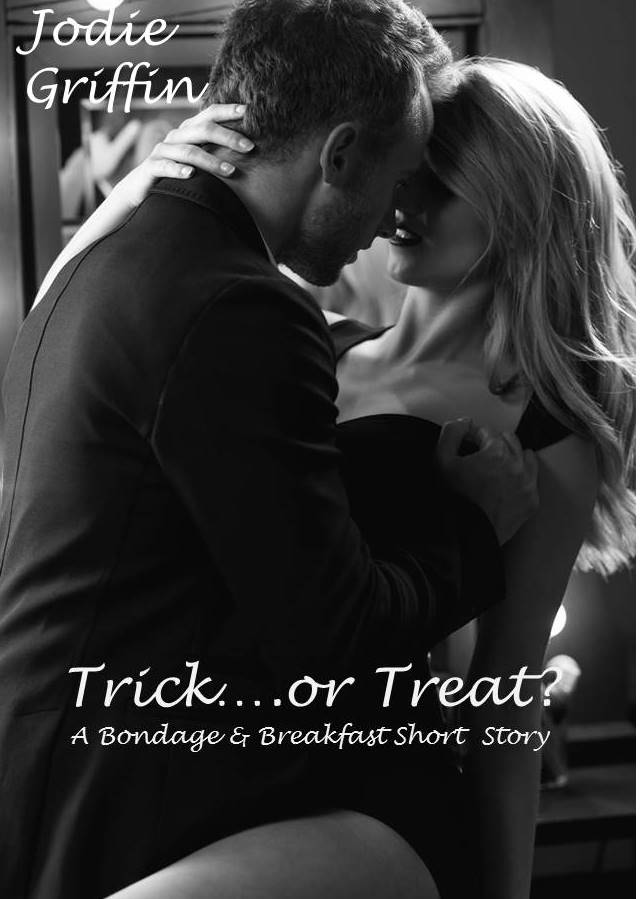 Happy Halloween! I hope you enjoy this super short story.   Fair warning…it is totally and completely NSFW. Emphasis on NOT.
Ding-dong.
Olivia Watterson-McConnell opened the door and grinned down at the pint-sized Red Riding Hood standing on the front porch of Bondage & Breakfast, which to most people looked like a private home.  Her mother stood at the bottom of the steps with a dog wearing a large tag that read Big Bad Wolf.
The little red-haired girl looked up at her, her mouth wide open. "You're a princess!"
Olivia's husband Gabe—a sadistic dominant— slipped an arm around her waist and smiled gently down at the girl. "She is, isn't she?"
The child bit her lip. "Are you a prince?"
"He is, and he's my prince," Olivia replied.  She crouched down and spoke in a half-whisper as she put a package of chocolate candies in the girl's picnic-basket Halloween bag.  "He's handsome, isn't he?"
"He's kind of old," the little girl said. "But he's okay, I guess."
Olivia smothered a laugh as the little girl skipped down the stairs to her mother, then turned and said thank you.
Gabe closed the door and backed her up against it, his mouth at her neck.  "You think that's funny, Princess?"
She shivered as his teeth grazed her skin. "I…uh…."
Gabe laughed, low and dark.  "That's what I thought.  Before we get another munchkin at the door, it's time for a quick trick or treat. I'll let you choose which you'd like."
Olivia hesitated. Her husband was diabolical, so she wasn't sure a trick was really a trick and a treat was really a treat.  She decided to hedge her bets. "You choose, Master."
He tsked. "My will is for you to decide. Quickly, my love."
Oh, bollocks. "I choose treat, Master."
He grinned. "Excellent.  Turn around, palms flat against the door."
Though nerves made her shiver, she did as he ordered.
"Good girl." He came close behind her, his body pressed against hers as he lifted her floor-length skirt. She didn't have panties on, because he hadn't allowed them. He bit her earlobe, then held something up in her line of vision. "Your princess plug, my Princess. A treat, because I know how much you love it."
Gah. Not the little one he sometimes had her wear when they were out, but the big one with the jewel that matched her eyes and the color of her gown.  She shuddered as he pressed it against her flesh, then steadily slid it past the tight ring of muscle without letting her get used to it in small increments. He'd lubed it up but standing as she was, with her feet close together, it felt huge going in. And he was right, damn him. She hated it, but oh, she loved it.
The doorbell rang again, and he dropped her skirt.
 ***
Gabe wiped his hands with antiseptic wet wipes he'd set on the table in the foyer, then opened the door. This time, they had two visitors, Black Widow and Captain America.  They were holding hands with a man who looked like Nick Fury. The little boy sighed. "A princess. Why girls gotta be princesses?" His sister reached around him and punched him. "Mama says girls can be whatever they want to be, just like I want to be a super hero." Her father cleared his throat, and she dropped her hand. "Sorry, Daddy."
Shaking his head wryly, he put his hands on their backs, and the kids held out their buckets.  "Trick or treat!"
Gabe grinned and looked at Olivia, whose face was a lovely shade of pink. "What do you think, my princess? Trick or treat for our two guests?"
Her voice was husky and her usually faint British accent was more pronounced, which always happened when she was aroused. "Superheroes definitely deserve treats."
"Agreed," he said, and as he held their container of candy, she took four packages and put two in each child's bag.
They said their thanks, their father grinned, and then they were gone.
Gabe closed the door.  "Now, love. Trick… or treat?"
She raised a brow at him. "Are we going to do this each time we have a visitor?"
"That's up to me, now isn't it?"
"Yes, Master." She dipped her eyes. "This time, I choose trick."
Satisfaction flowed through him at both her submission and her choice. "Mmm. I was hoping you would."  He opened the drawer in the side table and lifted out a butterfly vibe, showing it to her.  "Hold onto my shoulders."
With trepidation in her eyes, she did as he asked.  He tapped each ankle in turn and she lifted each foot. He wiggled the thing up, then strapped the toy in place.  He flicked the remote in his pocket, and as it buzzed he settled it where he wanted it.  He knew it was right where it would torment her the most when she whimpered.  His cock hardened.
He could see a flashlight halfway down the block, so he didn't have much time.  He dropped her skirts again and rapidly brought her to the edge of orgasm twice, but he didn't let her go over. She was trembling when he stopped, but by the time the doorbell rang again, she was in control. Mostly.
Olivia opened the door with a smile, to a plump little pumpkin and her parents—all three of them—who waited at the foot of the stairs.
Gabe knew this trio, had seen them several times in the restaurant attached to the inn in the special section known only to those in their particular community, though he hadn't realized they had a child. He squatted down to the adorable girl. "Hey, pumpkin."
She giggled. "That's what mama and mommy and daddy call me."
He smiled at that and, as he stood, he acknowledged the trio with a nod. They smiled back. They knew who he was, too.
"Here you go, baby," Olivia said. She dropped three packages of candy into the girl's bag. "Happy Halloween."
As the little girl raced down the steps to her waiting parents, Gabe set Olivia's vibe to the lowest setting and stifled a laugh when she made a small eep and glared at him. She closed the door quickly, and he backed her against the door again.
He swiped a finger down her nose. "Relax. They know what goes on here. Didn't you recognize them? They're the trio that made me think about giving you that threesome with Mistress Miranda for Valentine's day."
She flushed deep red but nipped at his finger, which made him laugh and made him hard. "Bad girl. Hands behind your head."
She did, which pushed her breasts out toward him.  The gown she wore was actually a skirt with a real corset, and not a cheap costume one, so she hadn't needed a bra.  He lifted one breast out until her nipple was bared to him, and then he sucked the tip into his mouth and bit. Not lightly, but enough to leave teeth marks in her soft skin, framing the nipple that stood up, hard and aroused.
"Master!"
She loved having that done as much as he loved doing it, the perfect masochist to his sadist.  He twisted the nipple and she wobbled, but he steadied her. He'd always steady her, this woman who owned his heart just as much as he owned hers.  Gently, he tucked her breast back inside the dress, and lifted the other out, giving it the same treatment.
The doorbell rang yet again, and he covered her up.
 ***
Bloody hell, he was killing her. To calm her racing heart, she sucked in a breath—which rubbed her sore nipples against the corset, a sensation that was both painful and pleasurable—and opened the door.  There was an entire group of elementary school aged kids and, as she counted, she laughed. "They're not all yours, are they?" she asked the woman standing with them.
"Goodness, no. But they decided they wanted to do a group costume, so here we are. Snow White and the seven dwarves."
"Excellent costumes," she said as she dropped four bags of candies into each proffered basket.
Gabe hooked his arm over her shoulder and grinned as they all wandered back down the walkway singing Whistle While You Work.
He closed the door, turned to her. "Don't think I don't see what you're doing," he said softly. "We're almost out of candy."
That was her plan, because holy guacamole, he was making it hard to focus on the kids.  "I'm sorry, Master?"
He flicked the butterfly vibe on low. "I'm not. How much longer do we do this?"
Though it was hard to focus with the plug in her ass and the vibe against her clit, she glanced at the clock in the hallway. "Another half hour, or we turn the light out when we're out of candy."
The doorbell rang again, and Gabe swore under his breath and turned the vibe off. It eased some of her sexual tension, as did the fact that he looked like he was just about done handing out candy. She opened the door to a girl dressed just like her, sitting in a wheelchair.
"Princess!" the little girl said. Her brown skin glowed with some kind of shimmery makeup, but the sparkle in her eyes rivaled that. "We're both princesses."
Wryly grateful that her submissive training had prepared her to kneel while wearing a butt plug, Olivia got on the girl's level. "You're quite the beautiful princess. Have you found your prince charming?"
The little girl wrinkled her nose. "Boys are icky. Can I find a Princess Charming instead?"
The girl's mother laughed, and Olivia smiled. "That works too."
The girl looked solemnly at Gabe. "Is he your Prince Charming?"
She stood, took Gabe's hand and leaned against him. "He certainly is."
"He's not too icky."
Her mother looked aghast, but Olivia just laughed. "That's exactly what I think, too."  She put five pieces of candy into the girl's bucket, and wished her a happy Halloween.
Once the door was closed, Gabe growled, tossed the nearly empty basket of candy on the table, and turned off the porch light, locking the door.  With his hand collaring the side of her neck, he guided her into his study, then pointed to the floor in front of his desk. "Not too icky?"
"Well, you do get pretty icky when you're working in the garden," she said as she knelt, tossing him a cheeky grin.  "But you're still my Prince Charming."
He wound his fingers through her hair and tightened them. "I'm your Prince? Then lick my crown," he ordered, unzipping his trousers.
She laughed, but the sound died in her throat as he fucked into her mouth, deeply.  And when he thumbed on the vibe, the moan that came from her was embarrassing.
"That's right," he said, laughing darkly. "No coming until I say you can come."
She closed her eyes and gave in to the sensation of being so thoroughly used. It was freeing, and glorious, and she loved it. She felt him move, but didn't realize what he'd done until her skirt hit the floor around her knees and she felt air on her naked ass. She smiled around the cock in her mouth, then gasped when he hit her with a crop she hadn't seen, and therefore hadn't expected. He struck her several times in rapid succession, setting her ass on fire and inflaming her desire. When she groaned, he drove his cock into her throat, gagging her.
Desperate arousal flooded her and she whimpered as he withdrew, letting her breathe.  "Master, please. Please may I come?"
"Hmmm, not yet."  He fucked into her mouth a few more strokes, then drew her to her feet and bent her over his desk.  He held her down easily, and she didn't struggle. Oh, she wanted this, so very much. He played against her skin for a few moments, teasing her with painful pinches and sadistic slaps which kept her aroused but gave her a moment to back away from the precipice so she could follow his order not to come.
And then he let loose, thrusting into her in a single long glide that nearly sent her right over the edge. As he stroked in, he pulled the butt plug out, alternating which he was doing until she was being fucked in both places.  She was breathing hard and sweating.
He was breathing hard, too, obviously on edge himself.  He leaned over her, pressing himself against her, putting his hand on the desk in front of her face as he thumbed the vibrator to max. "Come for me, Princess," he ordered, and with those demanding words, he spurted into her in long, hot streams, setting off her own orgasm.
She tumbled into oblivion, his weight heavy against her, making her feel safe and secure and loved. He stirred, then bit her neck, right on his favorite spot. As he slipped out of her, spent, he scooped her up and carried her over to his chair, and together they snuggled in it until their breathing returned to mostly normal.
"You okay?" he asked softly, stroking her skin.
"I am, Master." She burrowed close, felt his cock stir once again and knew their night wasn't over yet. "So, was that a trick or a treat?"
He kissed her, and grinned his bad-boy grin.  "Yes."
Trick … or Treat? Copyright ©2016 by Jodie Griffin